<-- That's me in the pink top May 2007. While heavy, I simply avoided the camera. So there's not a lot of "before" pictures from my heavy days (not to say that I skinny now or anything). At my heaviest, I hate to admit I wore a size 24W and I think there were times I pushed that limit. Very embaressing. However, since none of either my jeans or Steve's fit me, I've had to venture out and pick out a few select items to add to my wardrobe. Which means - SHOPPING! :)
While flipping through the clothes, I had no idea what sizes to try on. A 16, a 15 - maybe even a 14? My parents bought me the fashionable Seven7 Jeans promoted by American Idol contestant Kimberly Locke in a size 14, so I dared to think - could I be down to a size 14? Trying on one frustrating pair after another, I finally found two pairs that fit like a dream and were size 12. I never thought I'd be so happy to be a size 12. Only 4 more sizes to go and I'll be back to a size 6. SO CLOSE!
So here I am below, a few more recent shots of me in the middle of my weight loss. I seem a little stuck at having lost 37 lbs - so I'm kicking up my workout routine with my Yoga Booty Ballet (here's hoping) and an Ab Rocket that my best friend recommended. Obviously, it's very important that I stick with my high protein, low carb diet but gosh it's so hard. I was super good at keeping to it until we went camping. If any of you have any yummy high protein recipes PLEASE share, I'm getting a little bored with roasted chicken, chilli, oatmeal, and omelets.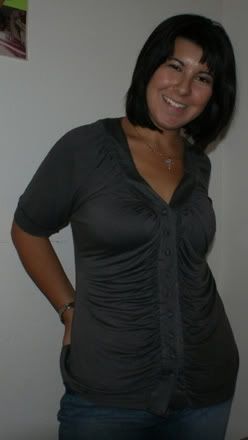 Not the greatest look on my face and I think my face still looks too fat - but me in size 12 jeans!
I'm wearing my favorite orange biking top here - I normally don't walk around in my work out clothes, but Steve and I were trying to capture a good picture of me right now in something that stuck to me a little better than what I had been wearing that day.
This top used to be snug on me, now it's very loose. I kind of like it - but it doesn't reveal my weight loss that great. These jeans are too loose on me now. Oh and the "x" in the back on the floor - it's for training with Maya and Tye. We use the command "mark" or "place" to put them in a hold position while we practice recall and stay.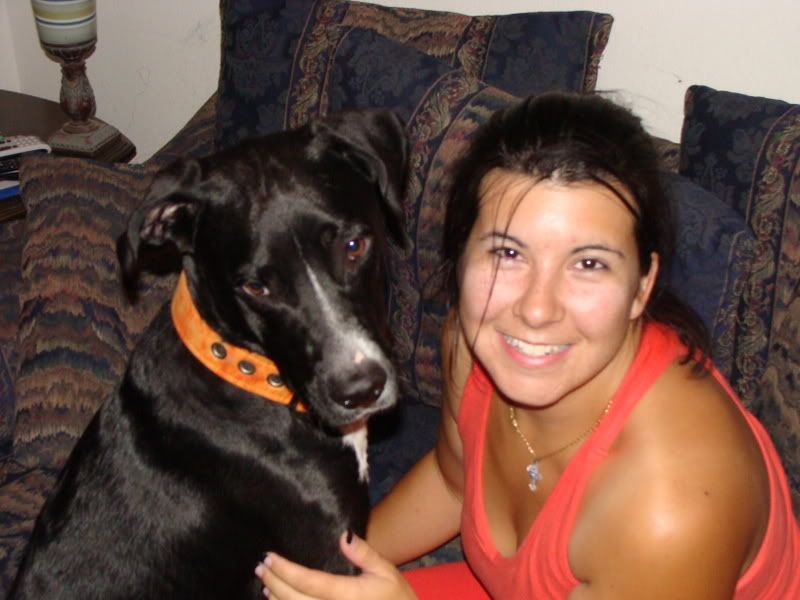 Before my (I think) fabalous haircut. Maya and me after a run. You can see my collar bone in these pictures! Not sure if you can tell in the very top picture at the beginning of this blog - but my collar bone disappeared for a few years.