Inspired by another blog wrapping up 2007 - although her blog was timely where as mine is just late - I decided to do my own roundup of the year.
2007 at a glance . . . .
In January I went to Santa Barabara for the first time with one of my closest friends to serve another super close friend.
Driving to Santa Barabara with Pamela Michelle was an awesome experience - I learned so much in just a day. I got to meet Austin and Darla who were super nice to us and who we recently learned are now expecting their first baby. California was just beautiful - the whole experience was amazing. The only downside was that I didn't get to meet Barbie, who I felt like I'd known forever but never met in real life.
Of course, this day also was when Steve was really overwhelmed with the kids and they decorated most of our new home in permanent blue marker. :P
I also began babysitting for a new family in our ward and learning about Food Allergies.
In
March
Steve's twin brother Dan and his family moved away to Iowa. It was really sad for us, because after such a strained relationship for almost four years, we were finally starting to really get along and develop a relationship together.
In
April
we visited Grace Point for the first time ever - as I've said before, it wasn't our taste or style and of course, when we visited we weren't even considering ever returning. Isn't God funny? :P The kids went to the zoo for the first ever time and ♥ LOVED ♥ it. Of course, I've yet to see anything that Grandma has done that they haven't loved.
In
May
, God clearly told us to leave the LDS church and attend GP - was very weird for us - but also a bit of a relief since we were attending GP in the morning, block services in the afternoon, and a small group in the evenings.
We also had Paul and Anya's joint birthday party and guess who came? Barbie. I finally got to meet her and little Annika. It was awesome.
We also met some other R&P posters.
Actually, we had a lot of firsts in May. . .
Anya's first time making brownies.
Anya's first braids . . . and the first totally meltable moment between Paul and Anya.
Our first family Red Power Ranger night. . .
Really getting into the cooler worship with God was so awesome. Of course, in just a few months I'd get really sick and loose my time totally and completely alone with God.
In
June
I had a ton of time off from babysitting and was able to bond with the kids so much more. We were all adjusting to GP - from Paul loving it to Anya's death grip on me.
July
brought my 25th birthday (egh!) and our five year anniversary. Wow. I couldn't believe we had been married for so long. I thought about our honeymoon and first anniversary a lot - wishing we could have returned to Disneyland for our 5 yr celebration. Maybe we can return to our honeymoon destination for our 10 yr anniversary and take the kids.
With my birthday came the most awesome gift - a huge inflatable pool for the kids. Which they spent almost the whole summer in - sans cloths and suits of course. ;)
At the end of the month, after sorting so much of our beliefs and understanding of not only the Bible but
WHO
God is in a "Christianity 101" like small group, Steve and I were baptized.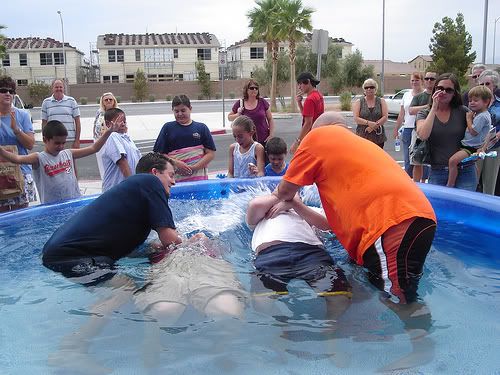 August brought the first time Paul ever wore and danced in my boots. . .
In September Grace Point volunteered for Balloon-a-palooza (sp?) and Steve and I saw for the first time, GP in action (in such a large scale as "missionaries" from churches that support the plant came out to help) in the community. It was awesome.
October
brought all month Halloween. This was the first year the kids really understood it - so even Daddy's birthday paled in comparison. Except for the birthday cake at Grandma's . . they loved that birthday cake. And of course, Steve's 10 year highschool reunion - we were so thrilled to finally have that behind us as Steve was the one planning it all.
We also visited our first mega-church when we went to King's Faire.
Photo Sharing - Video Sharing - Photo Printing - Photo Books
Of course, October also brought some of the worst moments of the year for us as well. While coming out of the LDS church and all that that entailed has pretty much consumed our whole year, telling my parents that we had left was by far the worst part of it all. We also learned in October that Mamau was now heading towards liver failure in her Stage 5 of Hept. C.
November was a month of craziness. Five toddlers running around the house, holiday plans and outings starting, and more hours at the store. It was a hard and frustrating month.
Thanksgiving was for sure a time very much needed for rest.
December has been both a hard and great month for us. It was by far the best Christmas we've had since Steve proposed to me six Christmas Eve's ago. The kids totally understood the whole present and Santa thing this year - so we spent the month of December trying to remind them of Jesus. We even picked up this adorable Veggie Tales Nativity scene.
We went to the Live Nativity - in which Anya tried to play the star not once, but twice. It was awesome to see some people from Grace Point there.
I was
blessed
to be able to go out and serve the homeless with other Grace Point people during December. It was really widened my eyes even more to the homeless and their very real need for the gospel.
Outside the Timeline:
This year was a year of several radical changes for us. We went from temple attending Mormons, to attending a church plant with a rock-n-roll band - from accepting God as a created, exalted man to an eternal God. By far, this change has been this biggest and most impacting the whole year.
My blogs have become much more deeply personal and even raw as has my relationship with God. Some days I feel so intimate and connected with Him, and others I don't even feel like I know what I'm doing. Each new season with God seems to bring both new joys and new challenges - I feel like I'm forever on this dissecting table where God is the surgeon bringing so many things to light. I feel uncomfortable, squeamish, and like I'm strapped down with my little book of comforting rules are just out of reach.
Time at the store has for sure brought me to a new level of service and opened my eyes to the homeless. I've loved working with them - even now knowing that Ron has been using this whole time (acid and mushrooms). I look forward to serving the homeless in 2008 and getting over myself and my own heart illusions of what all this is supposed to look like or hot it's supposed to go. I should have learned this in 2007 - but I cannot put God in a box.
I'm almost nervous about what God brings in 2008 - if 2007 was one of such radical change, what will He be doing in 2008? The Word says that it's through trials and such that we grow and mature.
What
I
want for 2008 is to go from frazzled, ignorant stay-at-home Mom treading water, to passionate wife and mother serving my family. I've felt the Lord really lay on my heart that my family is my first and most important "ministry". I also want to get back into school somehow this year - still shooting for the local Bible college. Finally, I want to get more organized and prioritize my time better - I have a wealth of reading sitting on my shelves and I'm not making the proper time for them and God and family and and and . . . you get the point.
So here comes 2008 - embrace it because it's here.