Today, Steve and I were baptized. Before I share the pictures - I want to share something from our "First Steps" small group that Pastor Devin wrote out for us:
B
aptism does not save you.
1 Cor 1:17: "For Christ does not send me to baptize but to preach the Gospel."
A
cts of Obediance
Matt 28:19: "Therefor go and make disciples of all nations, baptizing them in the name of the Father and the Son of the Holy Spirit.
"
P
icture of Jesus' death and resurrection
Colossians 2:12: "For you were buried with Christ when you were baptized. And with Him you were raised to new life because you trusted the mighty power of God, who raised CHrist from the dead.
"
T
akes place after you committed your life to Christ.
Acts 2:38: "Each one of you must turn from your sins and turn to God, and be baptized in the name of Jesus Christ for the forgiveness of your sins.
"
I
dentifies you with Jesus and His church.
Gal. 3:27: "And all who have been inited with Christ in baptism have put on the character of Christ, like putting on new clothes.
"
S
ymbol of belief.
Acts 16:31-33: "Believe on the Lord Jesus and you will be saved.. then he and everyone in his household were immediatly baptized.
"
M
ust be immersed.
The Greek word "baptize" (baptizo) means "to immerse, plunge, dip, or bury in water."
Acts 8:38: "The went down into the water, and Phillip baptized him."
It's all so true. Okay - now the pictures. I was so nervous that my clothes would become see-through because of the water so I layered them on.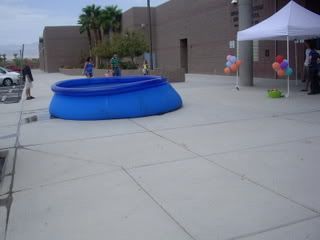 The Baptism pool!
The Welcome Committe.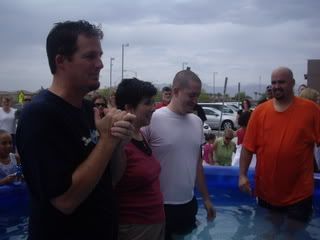 Here Pastor Devin is saying a little bit about us and our journey. Beside Steve in the GP Kidz Pastor, Jimmy Marr.
Dunk dunk - and down we went. This is symbolic of us dying with Christ and then being raised with Him as well.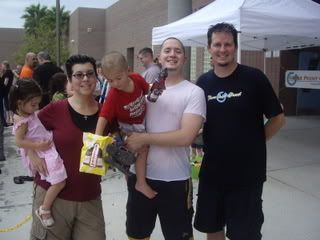 Afterwards our kids, Steve and me, and Pastor Devin.
Paul wanted to go "swimming" like Mommy and Daddy. So Steve let him dunk his feet a little bit.